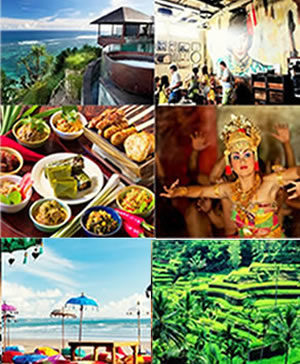 Rediscover Bali
Experience it like a local and explore it like an explorer!!!
Enjoy Tropical Bali – Land of Beaches, Pristine Water, Amazing Food, Warm People and Ancient Hindu Temples.
For the adventurous souls, Bali has tons of activities – White Water Rafting, Elephant Trekking, Canyon Tubing, ATV Rides, Scuba Dives, Water Sports, Off Road Experiences, Tree Top Walks and the list can go on…
If you instead want to unwind and relax – head to some beachside cafes (Bali has heaps of them from budget to the expensive flashy ones) or simply enjoy a rejuvenating Balinese Spa. And if you are with your Partner, head for an amazing Sunset at Tanah Lot or sit by the Ulun Danu Temple Lake surrounded by lush green mountains – you will forever remember these moments, our clients can vouch for that!!!
Rediscover Bali – our offering to you has captured the essence of all that Bali is and yet given you the free time to explore it your way. We take you through some off- beat and some regular activities of Bali – trust us, it will be an experience you will remember for years to come!!! You will do some off-roading and trekking, get a chance to live like a local and experience farming first-hand, experiment cooking local food and visit some beautiful sites (hidden from regular tourists!!!).
So, whether you are a solo traveller or a group of friends or travelling with your partner, join us in Rediscovering Bali!!!
Price Per Person:
27100
 Explore Lush Green Forests of Ubud, Bedugul
Visit Age-old Temples of Taman Ayun, Uluwatu, Ulun Danu
Off Road 4WD drive and Rice Terrace Trekking in Tabanan
Visit to Angsri Hot spring
Exploring the Twin Lakes of Buyan – Tambling
Experience Bali Village Life – visit to traditional Bali House, making Herbal Medicines, Coffee Making Process, Coconut Oil Making, Cooking Balinese Food, Farming and Rice Planting
Visit to Alas Kedaton – the holy Monkey Forest
Kecak Dance – the Balinese Ram Leela
You can also choose from a host of Optional Activities like (please check with us for more options):
· Mt Batur Sunrise Trekking (trek on the Volcano)
· Lembongan Island Cruise
· Water Sports at Benoa
· Scuba Dive at Amed (USS Liberty Shipwreck site)
· Elephant Trekking
· Visit to Kopi Luwak Factory (One of the Most Expensive Coffees in the World – made out of the Poop of a Civet!!)
· Bali Safari and Marine Park
Day 1: Arrival – Kuta
Today after an overnight journey from your destination, arrive at Denpasar Bali and transfer to your Hotel in Kuta. Kuta boasts of the best beaches in Bali, a five-mile stretch of clean sand that is a magnet for surfers and sunbathers. When that golden sun goes down, the animals come out—the party animals, that is. Kuta nightlife is almost frantic, as global tourists bounce from restaurant to nightclub in an effort to soak up the Kuta experience like a well-dressed sponge.
Enjoy your evening at leisure exploring the beaches and cafes of Kuta.
Meals: None
Activities: Sunset Cruise / Tanah Lot Temple (Add On)
Day 2: Bali Daily Life Experience – Tabanan
After a hearty breakfast, set out to explore the Daily Life of local Balinese people at Tabanan – an untouched heaven away from the sights of regular tourists.
This will be a guided tour where you will be taken to a local Balinese house. Enjoy various facets of Balinese folks like Food, Farming, Worshipping and Culture. Mingle with them and experience their lives, their warmth and their hospitality (Bali is known for this!!!). Try your hands at making Traditional Herbal Medicines, Offerings (Mejejaitan), Farming, Rice Planting and Cooking Traditional Balinese Meal. Also, not-to-be missed is the Coconut Oil making and Coffee making – two of the staple items in Bali food.
After spending about 3 fulfilling 3 hours with local family and enjoying a meal with them, it is time to come back to the comfort of the hotel. Evening is free to explore Kuta / Legian / Seminyak beaches. Enjoy the spectacular sunsets of these West Coast beaches – something that you will remember for days to come!!!
Meals: Breakfast and Local Lunch
Activities: Bali Daily Life Experience
Day 3: Free Day
After your breakfast at hotel, the day is free to explore Bali at your own pace and interest. From East Coast to West Coast – you can indulge in sunbathing at beaches like Nusa Dua, Jimbaran, Benoa, Seminyak, Kuta and Legian or unwind at one of the Balinese Spas or head for Scuba Diving at Amed – site of USS Liberty shipwreck – one of the easiest accessible shipwrecks in the world or get your adrenaline rushing by enjoying water sports!!!
We can suggest many more activities as per your liking!!!
Meals: Breakfast
Activities: As per your choice (Add On)
Day 4: Bali Jungle Jeep Adventure
After your breakfast, head for the most exciting activity of your holiday – Bali Jungle Jeep Adventure!!! See the real and the most exotic side of Bali specially designed for the nature lovers. Visit Jatiluwih, Angsri Hot spring, Twin Lakes of Buyan and Tambling, Bedugul and Ulun Danu Temple. Enjoy an hour's trek in the Rice Terraces and Off Roading Jungle fun in a 4WD!!!
This journey will take you through some off-beaten paths of Bali – all you need is an adventurous spirit and a DSLR to make this even more memorable!!!
Meals: Breakfast and Local Lunch
Activities: Bali Jungle Jeep Safari
Day 5: Day Free
A day for you explore to Bali at your own pace and liking. Please check with us for the activities that can be done.
Meals: Breakfast
Activities: As per your choice (Add On)
Day 6: Mengwi, Alas Kedaton followed by Uluwatu Kecak Dance
A day to explore the heritage of Bali – visit some of the oldest temples in the world today and marvel at their grandeur and splendor!!! Walk through Alas Kedaton – the Holy Monkey Forest, pay visit to the Royal Temple Taman Ayun – a temple dedicated to Lord Vishnu (Wisnu) and Pitra Dewta (Deity of Soul) and enjoy the untouched and unspoiled beauty of Bali!!! Later in the evening visit Uluwatu Temple hanging on a cliff 100 meters above the ocean – a rare sight indeed!!! It is a place to watch the sun set in the Ocean and marvel at the colours of the twilight. Also enjoy the Kecak dance performance – Bali's version of Ram Leela !!! It is performed by about 50 singers and is the only dance form in Bali which is based on vocals rather than instruments.
After an enjoyable day, return to hotel for a relaxed night.
Meals: Breakfast
Activities: Mengwi, Taman Ayun, Alas Kedaton, Uluwatu Temple and Kecak Dance
Day 7: Bali Airport
It is time to say bye to this gorgeous Island and head back home with some amazing memories in your heart and in your camera… J !!!
Inclusions
· 6 Nights Accommodation in a 3 Star Deluxe Hotel
· Meals as mentioned in the itinerary
· Visit to Balinese House and engaging in day-to-day activities
· Enjoy a meal with locals
· 4WD Jungle Drive as per itinerary
· Uluwatu Temple Visit and Kecak Dance Performance
· Visit to Alas Kedaton and Taman Ayun Temple
· Visit to Bedugul and Ulun Danu Temple
· 1 hour Rice Terrace Trekking
Exclusions
· International Flight Charges
· Entrance fee at local monuments, museums which are not part of the Itinerary
· Activity fees which are not part of the Itinerary
· Cost for any Optional Activity
· Meals not mentioned in the Itinerary
· Local transport beyond what is mentioned in the itinerary
· Personal expenses such as beverages, tips, room service etc.
· Any costs arising from flight delays, change in weather conditions, strikes etc. which are beyond our control
· Visa charges and processing
· Travel insurance
· Anything not mentioned in "Inclusions"
· Service Tax as applicable